Introduction
Simple File Annotator is an application, that allows you to assign text annotations (descriptions) to any kind of file within a single folder. Annotations are joined with files either by name, or directly by its contents. Consequently, it is possible to match annotations correctly even, if the file name is changed.
Example use cases of the application are as follows:
Creating descriptions of image files
Assigning an abstract, comments, remarks etc. to documents
Creating a to-do list for a document
Assigning a reminder notes containing usage info of a program
Deleting group of files matching part of their names or annotations
Storing key words to help organize and find files
It is a tool, that can be used in many different ways. Chances are, it could change the way you think of organizing files on a hard drive.
Information are saved in XML text format, therefore it is possible to open and edit them in any pure text editor e.g. Windows Notepad. Additionaly, the format is adapted to be opened in a web browser . Covenient, tabular view of files and their matching annotations is displayed then. Owing to the aforementioned features, one can easily read and edit information stored with Simple File Annotator using other applications and even running other operating systems than Microsoft Windows.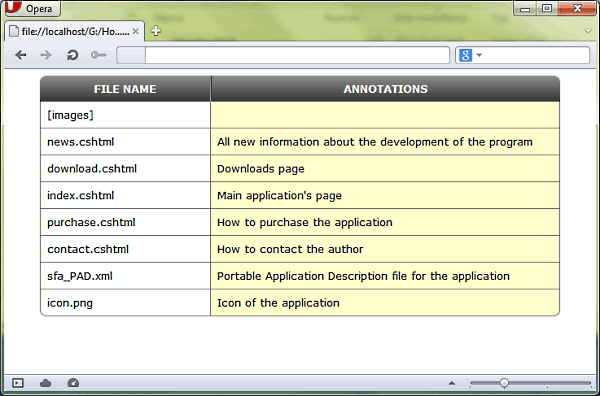 Link
to sample annotations file, to be displayed in Firefox, Opera or Chrome.
Other features of the program:
Finding files by fragment of their annotation, or their name
Accessible from Windows Explorer's right-click context menu
Displaying quick preview of image files
Full support for keyboard navigation within window
Instant access to Windows Explorer by double-clicking folder's path box
Opening a folder with "drag and drop" method
Notifiation of unsaved changes
Adjustable font size
Automatic switching of interface translation between English and Polish version
For advanced users, it is possible to edit CSS code to customize web browser view of the information file
Multi-core processors support
System requirements
Microsoft Windows operating system version XP SP3 or newer (Intel x86/x64 architectures)
Microsoft .NET Framework version 4.0 or newer
The offer
On this web site, in Download section, there is trial version of the application available. Its only limitation is displaying up to three files within a directory. The sole purpose of demo version is to try and explore the application before making a decision of purchasing it.
---
Full version license priced 5€ including VAT
---

---